Public Print Mobile Apps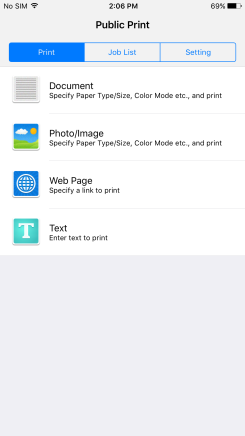 Public Print requires user registration (free)
Recommended System Requirements
Public Print for iOS
| | |
| --- | --- |
| HardWare | iPhone 6s、iPhone 6 plus、iPad Air、iPad Air2 |
| OS | iOS 9、10、11 |
Public Print for Android
OS
Android 4.4~8.0
Verified Devices
Android 4.4: G2mini
Android 5.0: GalaxyS4
Andriod 6.0: Nexus9
Andriod 7.1: Nexus6P
Andriod 8.0: Nexus6P
※

Android, Google Play? and Google Analytics? are trademarks of Google Inc.

※

iPhone, Phone and iPod touchi are trademarks of Apple Inc., registered in the U.S. and other countries.

※

IOS trademark is used under the license of Cisco Systems, Inc in the U.S. and other countries.

※

App Store is a service name of Apple Inc. where application software for iPhone, iPad, and iPod touch can be downloaded.

※

Other company names and product brand names are generally company trade names, trademarks and registered trademarks.

※

The iOS trademark is used under license from Cisco Systems, Inc.
Using Public Print Mobile Apps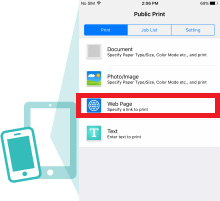 Use the app to upload files to print.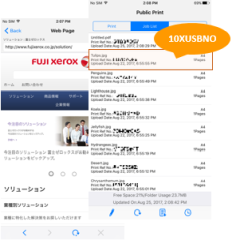 Complete the print settings and confirm the 8-digit printing reference number.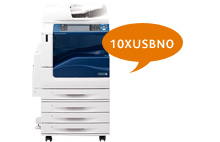 Visit a nearby printing spot and enter the printing reference number on a compatible copier.
Files saved in other apps are also accessible to reserve for printing on an MFD (using UTI calling function in iOS and sharing function in Android).
※

Supported formats for UTI linking: PDF, XDW, JPEG

※

Payment: Cash (coins) or electronic payment